NEW POLISHED RESIN MEASUREMENT GAINS CUSTOMER APPROVAL
Member News
COBA's Quality Assurance team has been working with a globally recognised automotive visibility systems brand to improve product reliability.
Less than 12 months ago, COBA Automotive invested in its first resin polisher machine, and since then, we have made huge steps forward in the accuracy and efficiency of some of our product quality processes.
We have been working in partnership with a leading European manufacturer of automotive window wipers, to ensure that the profiles we supply are within the extremely limited tolerances required for reliable production. The customer has been impressed that our internal quality assurance processes are in line with their own standards.
How We Utilise Our Resin Polisher Machine
In-line laser machines provide instant and highly accurate measurements of profiles in production, but they can only ever provide data on the external dimensions. When two materials are used in one product, it is important to be able to determine that they join according to the original technical drawing. This requires analysis of the part's end profile, which the resin polisher machine now enables us to check with precision.
The process starts off with the plastic profile being set in resin, which prevents distortion of the part and allow the most accurate measurement possible. In the past, when smaller or particularly soft profiles were cut, they were more likely to distort from the pressure of being handled, providing potentially inaccurate feedback to our production team.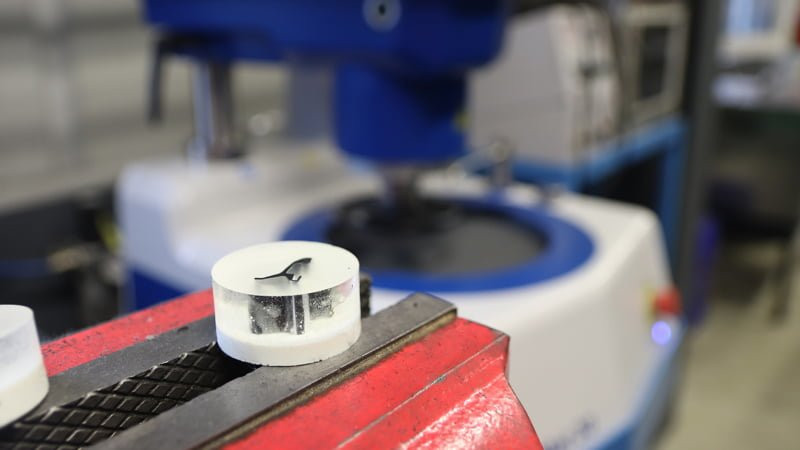 A number of different sanding surfaces are then used to file down the resin, revealing its true profile. The resin polisher machine carries out five separate grinding processes and three polishing processes, pre-programmed to reach a perfectly smooth surface when all are completed.
Once polished, the resin block is digitally scanned at a high magnification using our Optimax equipment. Then, using sophisticated software, we are able check each specific dimension against the original CAD drawing. Automation within the software means that this can be done in a short amount of time and with pin point accuracy.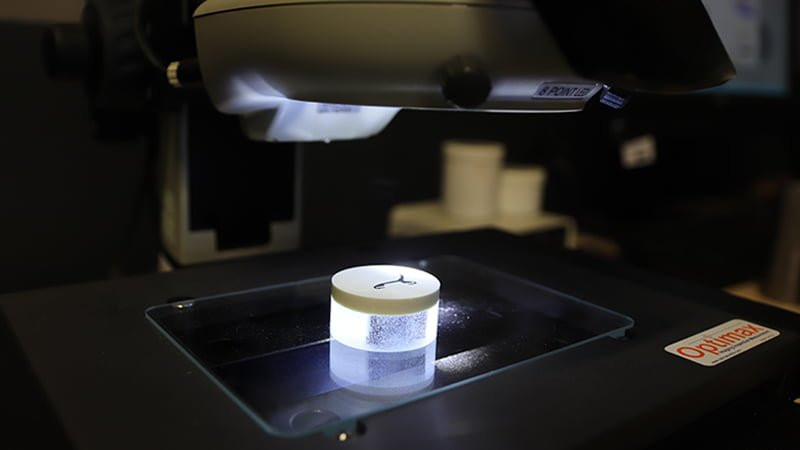 More Precise Feedback to Production
By using a resin polisher and this process, we are now able know more reliably if there are any imperfections, that may either compromise the part's performance or impact production efficiency.
Optical Comparators are still used frequently, and in most cases provide high levels of accuracy, but with smaller profiles, shadowing means that dimensions are potentially open to misreading. So, for profiles with tight tolerances, the new process is preferable.
To minimise the risk of errors further and ensure reliability, we repeat the same process five times during each test. We are able to quickly see any defects or measurement errors and make corrections if required. Accurate measurements are crucial for delivering a successful project to our clients.
Get in touch with us today to discuss how we could improve accuracy on your next project.